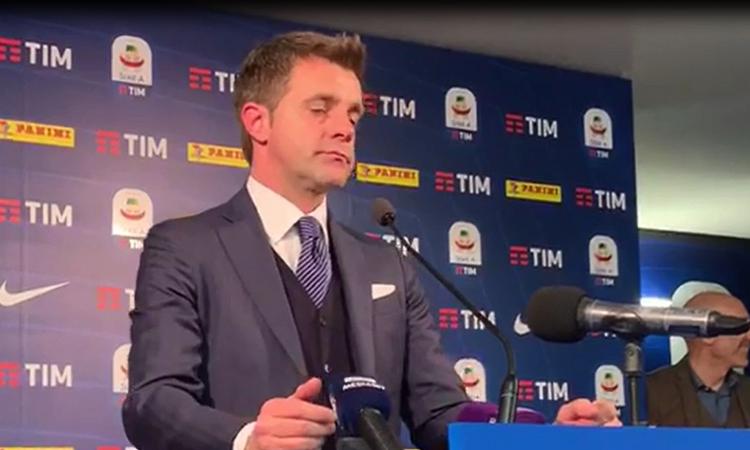 Comment first
I>
Div>
<! - none ->
I took a few hours to reflect, while also from authoritative media
there was talk of a Mertens to be disqualified with the TV test, immediately poisoning the climate in view of Juventus-Napoli
. Ed & # 232; clear that from black and white circles it is & # 232; immediately placed the accent on which the real team helped by the referees, with the slips of former goalkeepers who, perhaps, would do better to resume full possession of the activities; cognitive rather than firing low-profile chapels. My reflection, at that time, seemed almost too trivial to me: but
if there is # 232; an arbitrator who has seen, a VAR he has reviewed, how can you? to appeal to the tv test?
While reading and re-reading, trying to push beyond my very limited synapses, I found, even with a certain bewilderment, that my banality; & # 232; became very concrete: today the
Journal
maintains that, for the trivial reasons explained above, Mertens cannot be disqualified with the TV test and with
Juventus
there will be #.
NOW ONLY, PRESIDENT? – & # 160; Always with the aforementioned synapses, then, you begin to think: are there any ulterior motives? Need to put pressure on the match? Perch & # 233; the arbitral vertices were exposed in such a way; net, as almost never happened in the past? Where does Nicchi's, Rizzoli's desire to do all this clarity, to immediately get his hands on? Where were these velleit & # 224; when Orsato decided on April 28th 2018 did he decide the fate of a championship? Speak now that we are on the first day & # 232; damn too simple, on the eve of a match where the words of the referee tops always have a very very heavy weight.
<! - spit by break row 3 sentences. Article world: 429 -> Frankly, I don't like the climate you are breathing at all: Let's see if it will be # 224; official explanation for each doubtful episode, if Nicchi will be # 224; cos & # 236; harsh against its members at every error, if it will be # 224; cos & # 236; the president of the arbitrators is different from the past . And if the referees really want to talk, why? do not allow them to speak at the end of the race, because & # 233; do not give to whom & # 232; the possibility on the field was # 224; to even explain an error? Perch & # 233; there must be a discrepancy between the images in the VAR room and those provided on TV? Perch & # 233; continue to whisper that an arbitrator who uses too much the VAR is penalized in the judgments of the same technical bodies? Only when there will be & # 224; the answer to these questions, then, I believe, it will be possible to # # 224; talk about Mertens in Florence.
Div>
From: Calciomercato.com.
DISCLAIMER: This post was automatically translated with Google Translate Services.